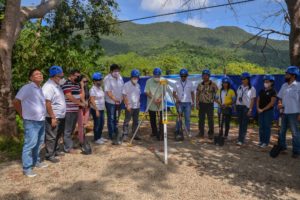 In partnership with the City Government of Puerto Princesa, Bacungan-LGU, Candes 3 Marketing Cooperative (C3MC), DENR-CENRO, and DENR-PENRO, the much-needed water supply system for Brgy. Bacungan is now finally realized through the groundbreaking ceremony spearheaded by the Puerto Princesa City Water District.
Held on October 5, 2022, the ceremony was attended by City Mayor Hon. Lucilo R. Bayron, City Government Officials- Atty. Arnel Pedrosa and Engr. Jovenee Sagun, Barangay Council of Bacungan led by Brgy. Chairperson, Hon. Gina Valdeztamon, C3MC Chairperson Mr. Joel Germina, and PPCWD Board of Directors led by Atty. Winston T. Gonzales.
The PPCWD, through its General Manager, Walter J. Laurel expressed, once again, its appreciation and gratitude to the City Government of Puerto Princesa for its support for the project. The Bacungan Water Supply System's total cost is 25 million pesos; 15 million pesos will be subsidized by PPCWD and the 10 million pesos will be from the City Government of Puerto Princesa.
This project aims to address the need of the 6,454 residents of Barangay Bacungan for a safe and reliable water supply. Project construction is targeted to commence by November 2022.