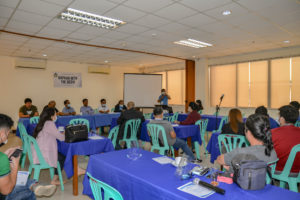 PPCWD successfully conducted its annual Kapihan with the Media on February 10, 2021.
The Kapihan with the Media was led by PPC WD'snewly appointed General Manager, Mr. Walter J. Laurel, who took an oath of office last February 1, 2021. He was joined with PPCWD BOD Members Mr. Edgardo Palanca and Mr. Richard Arambulo, together with Assistant General Manager for Admin & Finance Mr. Ronnie P Fernandez, Assistant General Manager for Operations Engr. Vicente D. Abrea, and City Information Officer Mr. Richard Ligad.
The Management assures that there will be no water shortage this dry season due to the operation of provisional water sources from Montible and Lapu-Lapu Rivers, with a combined approximate volume of 15,000 cubic meters per day. Additionally, Campo Uno source operation is still at its normal capacity with an average of 16,000 cubic meters per day flow rate. Consumers and residents of Puerto Princesa are still encouraged to conserve water.
Engr. Juan A. Arquero Jr. also presented the updates on the ongoing construction of Water Supply Improvement Project 2 where as of December 2020, the project is already 66% accomplished and is expected to be completed by the 3rd quarter of this year. | Via J. Rausa